Two new members join NextGen Committee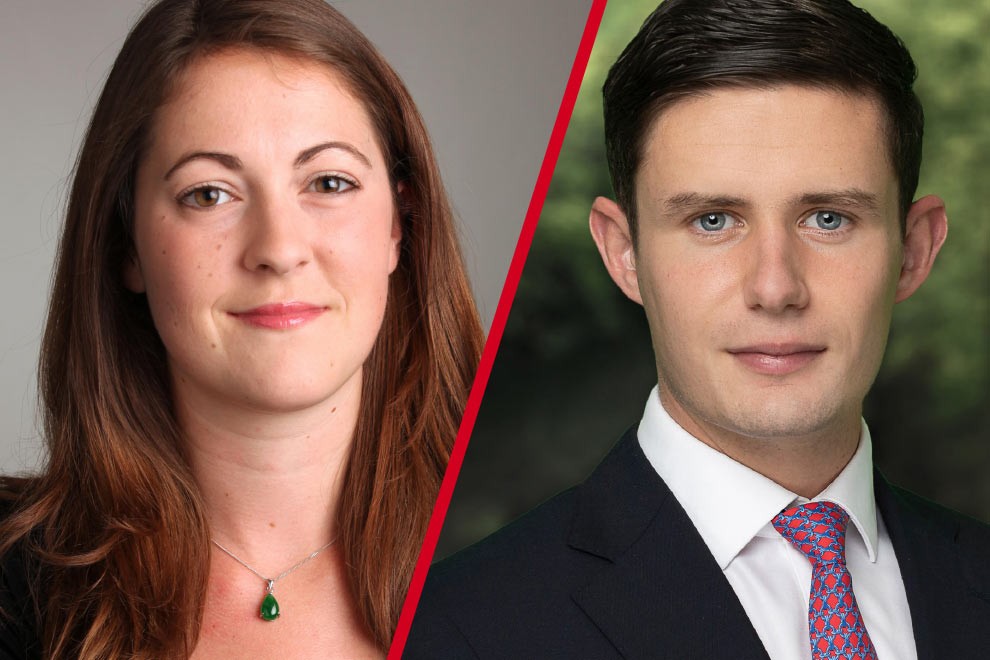 We are delighted to announce the appointment of two new members to our NextGen Committee:
Carolyn Milligan, Senior Associate, Herbert Smith Freehills. Carolyn works for Herbert Smith Freehills LLP, providing legal advice on a full range of real estate services including development and regeneration projects, joint ventures, acquisitions and disposals as well as major leasing and finance-related work. Her clients include Brookfield, Hammerson, Nuveen and Benson Elliot. She is passionate about gender diversity and heavily involved in the committee for HSF's Women's Lawyers Network, aimed at providing networking opportunities as well as supporting the careers and professional development of female lawyers within her firm.
Ronan O'Neill, Associate, Hines. Ronan currently works for the Hines EMEA Capital Markets Group and is responsible for raising equity from European investors for Hines funds and separate accounts. Ronan also previously worked on the acquisitions & development team in Hines Ireland and prior to joining Hines, he worked for the real estate developer Time Equities in New York. Ronan holds a Bachelor of Business & Law from University College Dublin (UCD)
Our NextGen committee help shift the way we develop and engage with our young talent in the industry. They have many great insights to share with us to help inform our leaders and middle managers. We have created a 50/50 gender balanced committee representing various businesses in our sector and also providing further diversity beyond gender. 
Carolyn and Ronan join other members of the Real Estate Balance NextGen Committee:
Charlotte Dawidek - Surveyor, JLL
I am passionate about improving diversity and inclusion in our industry. My Masters research on the Gender Pay Gap in UK Real Estate highlighted the inequality that is embedded in the culture of our industry. I look forward to working with the other Real Estate Balance committees and my fellow committee members to address the issues which are relevant to the 'Next Gen' of people working in real estate.
Seb Lancaster - Senior Client Advisor, VTS
I'm excited to be involved in the NextGen committee, where I aim to focus on accelerating the prioritisation and accountability of D&I initiatives across all levels of seniority within the industry. I'm passionate that the vision and voice of a diverse workforce is recognised and results in an industry environment that thrives from balanced perspectives and experiences. I look forward to sharing my perspective from working within a values-centred PropTech company.
Amelia Ryan - Asset Management Surveyor, Capco
My reasons for wanting to be involved in the committee come from knowing the barriers to entry to the real estate industry for those from working class backgrounds and considering the effects this has on diversity in the industry. I believe a balanced sector doesn't stop at a 50:50 gender balance, but in striving for an open and inter-sectional industry where this balance is not limited to the privileged few.

Andrew Bird - Property Administrator, Avison Young
I want to change the perception that people should be a certain way, or should fit into "societal norms", to ensure that people from all backgrounds have the same opportunities. Being a D&I champion and on AY's Emerging Leaders program I have a great platform to gather feedback and drive change within our business and to showcase and help others. I want to be the role model that was missing from my life when I came out.
Amjad Agil - Partnership Development Manager, SEGRO
I have always been passionate about equality and diversity and creating a world where everyone is supported to reach their full potential. I am excited to be part of a committee that will work to help us reach that goal.

Paul Modu - Surveyor, Knight Frank
In a global environment, there's a pressing need to bring to the table diverse thinkers from a variety of backgrounds. There is vast disproportionality across the real estate industry, including ethnic minorities in the workplace and women in senior management. As one of the NextGen committee, I am committed to driving efforts to build a more expansive pipeline of talent, while installing the mechanisms to develop higher employee retentions from individuals in less represented groups.