D&I in planning discussed at Real Estate Balance and DP9 event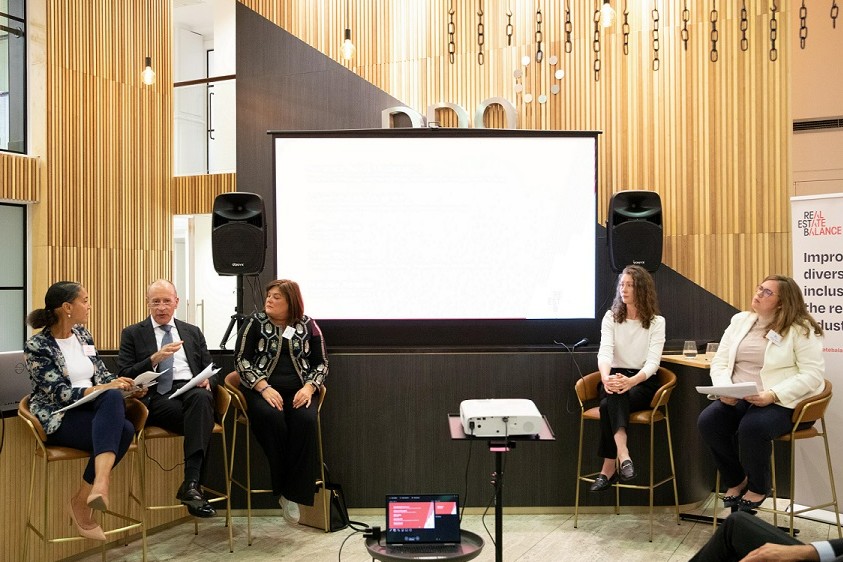 Leaders from the public and private sectors recently took part in an important and insightful panel discussion on D&I in the planning industry at an event at REB member DP9 in central London.
The panel of experts was comprised of:
Amanda Reid - Director, Planning and Place, Environment and Communities, Royal Borough of Kensington and Chelsea (moderator)
Jules Pipe CBE - Deputy Mayor of London for Planning, Regeneration and Skills
Juliemma McLoughlin - Executive Director, Environment, City of London Corporation
Gillian Nicks - Director, DP9
Natalie Render - Associate Director, DP9
The theme of the discussion was how to make sure those who plan our shared spaces represent the communities the environments are designed and built for, with a particular focus on opening up the planning industry to a diverse workforce.
Increasing diversity in the built environment sector is crucial for our city.

Jules Pipe CBE - Deputy Mayor of London for Planning, Regeneration and Skills.
The participants discussed avoiding groupthink by allowing all to challenge and contribute to policymaking. Virtual planning meetings, for example, are proving to be more inclusive, giving planners the opportunity to capture as many voices as possible.
The panel also talked about how D&I is increasingly central to pitches, meetings and consultations, with clients challenging businesses because they increasingly see balanced teams as contributing to better outcomes. Organisations are responding to this by including more of their people in client relationships.    
Barriers to entry to the planning industry were also part of the conversation, with participants raising a number of issues:
There is a need to change perceptions about planning in the context of negative media coverage and the narrative that working in planning can be adversarial.
The public and private sectors should both do more to celebrate each other.
There is a lack of good career guidance on planning, and the industry needs to reach out and engage with school pupils and promote the many exciting aspects of a career in the sector.
Work experience should be offered on a competitive basis rather than places being determined by 'who you know' and informal networks. Accommodations should also be made for those who cannot afford to undertake unpaid internships.
There are significant financial burdens to entering planning via the traditional degree route and many potential planners do not live close to the relatively few planning-related courses.
While students on planning courses are broadly representative of the population, this is not reflected in the planning profession itself, with some students deterred from entering the industry post-graduation.
In many cases, apprenticeship courses are producing great planners, with the opportunity to experience many roles in the planning industry before specialising proving to be beneficial.
Panel members also discussed D&I best practice, with all agreeing that representation needs to be embedded at every part of the planning system – from local authorities and policymakers to planners, architects, consultants, advisors and communications teams.
Supply chains and procurement also have a part to play in diversifying the system, with the public sector taking proactive steps to engage with minority-owned businesses by lowering liability insurance requirements and reserving spaces on projects for SMEs.
The panel also discussed the importance of monitoring workforce diversity data and keeping unconscious bias out of recruitment processes by involving as many people as possible on interview panels.
Participants also agreed on the value of fostering inclusive workplace cultures where people feel they can be their authentic selves and that public and private sector organisations embedding D&I as a core value will help to meet the planning needs of London - both now and in the future.
We are thankful to Amanda, Jules, Juliemma, Gillian, Natalie and all who contributed to such a thought-provoking and inspiring discussion and to DP9 for hosting this fantastic event for our members and all those committed to opening up the planning industry.