Diversity is vital - even in more challenging times, agree real estate leaders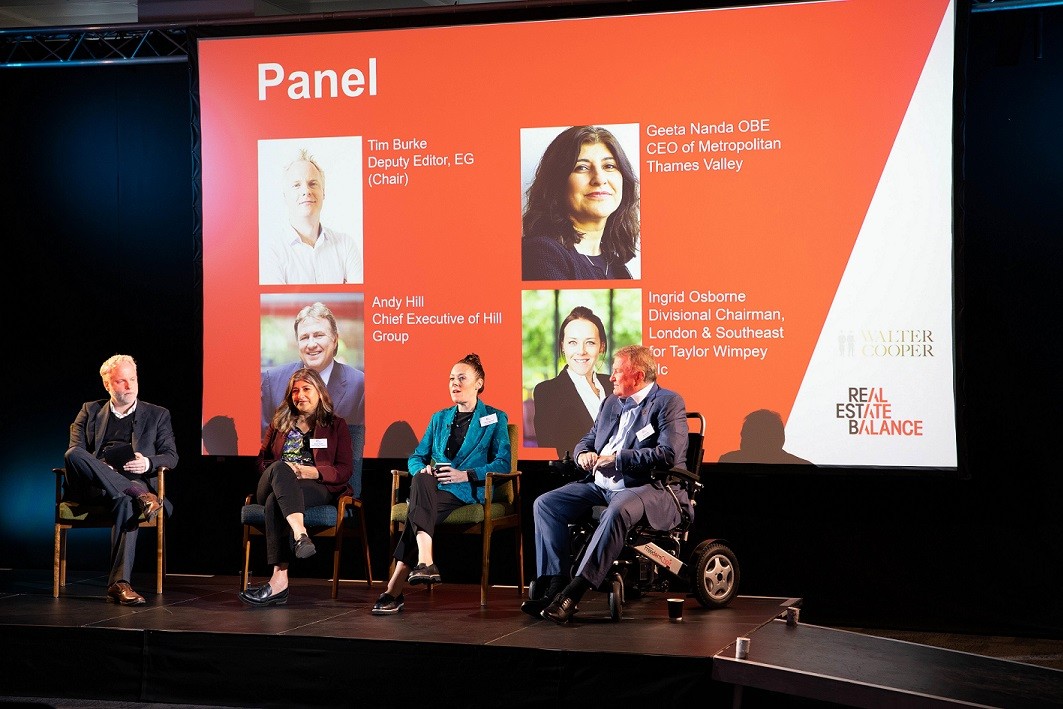 Industry leaders recently took part in Diversity, Homes and Community, a panel discussion organised by independent land agency Walter Cooper as part of the Real Estate Balance events series.
The event was introduced by Sue Brown, our Managing Director, and the panel featured Geeta Nanda OBE, Chief Executive of Metropolitan Thames Valley Housing and Chair of the G15 group; Andy Hill, Chief Executive of independent housebuilder Hill Group; and Ingrid Osborne, Divisional Chair, London & South East at Taylor Wimpey.
The discussion covered topics ranging from the current financial turmoil to the difficulty of recruiting women to site positions and persuading parents that construction is a good career for their offspring – but all participants firmly agreed on one thing; that diversity is far too important to be derailed by the current economic outlook.
Please click here to listen to the podcast version of the event.
"We know that when there's a downturn, the poorest people in society are impacted the most – we are seeing black homelessness increasing massively," said Geeta Nanda.
However, MTVH has already made strides towards increasing diversity in the workplace, with 40% of the board being black or brown and half being women, and she can't imagine there being any backtracking on that.
"We've made a commitment; it's part of our culture and I don't think that will change, if anything it will become stronger. The bottom line is the bottom line; it makes good business sense to have diverse groups of people working on problems, and we gain the best results with diverse thinking, diversity of people within an organisation, and a diverse pool of innovation, creativity and problem solving."
"From Taylor Wimpey's perspective we've done a lot of work on awareness, and people's understanding is vastly ahead of where it was," added Ingrid Osborne.
"I don't think it can or will disappear off the agenda and I don't believe it's something that's going to be brushed to one side."
Andy Hill has seen huge changes during his career.
"When I started it was very white male dominated from top to bottom, middle and sideways! Now the industry is at a stage where we understand that we need the widest pool of talent we could possibly draw from and everyone is included in that talent."
There was no time for self-congratulation and complacency however, as chair of the panel Tim Burke, Deputy Editor of EG magazine, revealed statistics from the Chartered Institute of Building that overall, just 2% of workers on construction sites are women.
At Taylor Wimpey, Ingrid Osborne reported that while nearly a third of Group management are female, only 5% of site management are women.
"We've been spending a lot of time on how we improve that, especially the facilities and culture on site," she said.
This included launching a Respectful Workplace programme, where site management spent time listening to the experiences of women in the industry.
"We were having honest conversations and courageous women were talking about their own experiences and real life examples of things that have been said to them –­­ not 10 years ago but a few weeks ago. It's been really effective. When people heard these stories, most were shocked that this kind of thing was still happening. There is a big impact on site culture driven by sub-contractors so we are also taking them on the journey with us. It's early days but it has already had a real impact."
The importance of listening to lived experience was also highlighted by Geeta Nanda.
"As a result of Black Lives Matter we had some really incredible open conversations. We invited black staff first, then other staff, and they talked – and wept – and openly discussed how they had been discriminated against and blocked in terms of recruitment and employment and how they had been treated by the police and health services. Many of the white staff had never heard any of this before, even though they work in a very diverse organisation. It was amazingly impactful and definitely changed the way managers were relating to staff."
An important part of improving diversity is recruiting in the right places, and the panel members discussed the challenges involved in encouraging people to consider a career in the industry.
At Hill Group, they like to start young – inviting primary school children on visits to see the buzz of the building site at first hand.
"We display their art work on hoardings, they visit sites and we give them a hard hat, high viz vest and a teddy bear, they love to see machines in action! The real effort starts with the A-level candidates when they are trying to choose careers and are going to university," said Andy Hill.
"We now make more use of social media, and we've changed the wording and placing of job adverts; a few years ago it was just perpetuating the same pool of people," added Greeta Nanda.
"It's a well-paid industry compared with many others, so we need to make it desirable, including to parents who might just be focused on wanting their children to become doctors, lawyers or pharmacists. Role models are really important; people need to see others who have gone through challenges and have been successful."
Simon Cox, Founder and Managing Director of Walter Cooper, explained why the land agency organised the event: "We believe it's incumbent on all of us to make a difference to procure a more inclusive environment and reduce barriers to entry to make diversity thrive. Here at Walter Cooper, we believe passionately in our ability to inspire and encourage change – and events like this, where the industry can come together to talk about the challenges and share best practice, are a step towards that."