Real Estate Balance forms new Policy and Campaigns Committee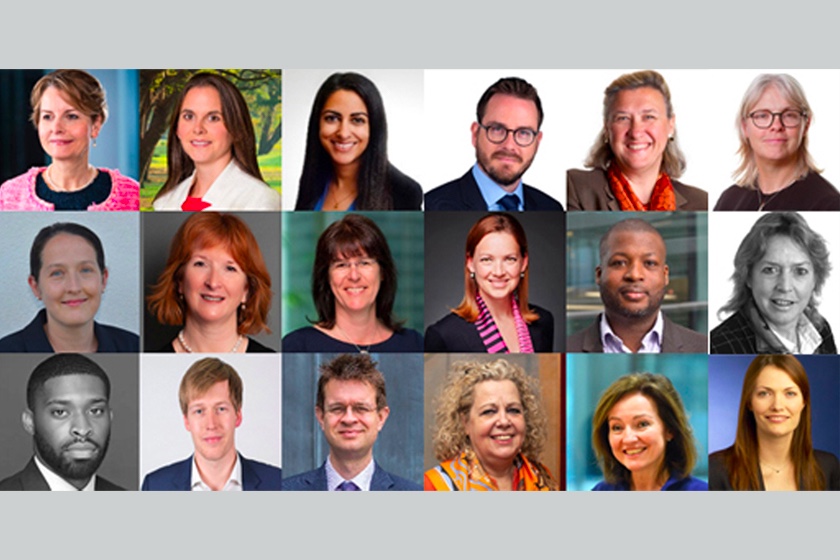 The newly formed Real Estate Balance (REB) Policy and Campaigns Committee (PCC) is made up of dedicated individuals from REB's corporate membership and is chaired by Suzanne Avery and vice chaired by Karen Friebe. The purpose of the committee is to provide a policy development forum; to determine campaigns to be undertaken by REB and to identify the activities which need to take place to achieve those campaigns. Click here for the PCC Terms of Reference.

"I've been involved in REB for a number of years now and I am passionate about ensuring that our industry is an inclusive one that can attract the best talent, irrespective of background and gender. I'm excited to continue to be part of REB as it evolves and as a member of the PCC am committed to ensure we are challenging ourselves to make a real change." Saira Choudhry, Partner, PwC

"I'm thrilled to be joining this exciting new Real Estate Balance committee. Diversity and inclusion is a huge challenge facing our sector and only by working together across the industry can we deliver the systemic change that's needed." Julia Nammuni, Senior Strategy Executive, British Land

"The newly formed PCC group serves as an opportunity to develop and shape the role Real Estate Balance (REB) has on diversity matters in the industry. As a Next Generation leader, I am joining this illustrious group to offer perspectives, critical thinking and my support in building REB's key strategic campaigns.' Paul Modu, Surveyor, Knight Frank

"I'm delighted to join the PCC to help support Real Estate Balance in their mission. The challenges we face are both structural and nebulous, however through collaboration we can work towards a fairer society and more resilient financial system." Geoffrey Shaw, Managing Director, BlackRock

Meet the Committee
Suzanne Avery, Real Estate Balance (Chair)
30 years track record at the forefront of the real estate, retail, and housing finance sectors having led various businesses including as Managing Director of the Real Estate Finance Group & Sustainability at RBS.
Since 2015, Suzanne has focused on a portfolio career, both in the UK as well as Internationally. Having held various non-executive appointments during her executive career, her portfolio now includes LondonMetric Property plc, Richmond Housing Partnership, The Church Commissioners, and senior advisor to the corporate finance firm Centrus.
Passionate about people fulfilling their potential, she is engaged in leadership development, as well as promoting an inclusive culture within industry. Co-founded Women's Markets at RBS, which was recognised as Corporate of the Year at Women of the Future Awards. Also a co-founder and deputy chair of Real Estate Balance and a Trustee of LandAid.
Holding an honours degree in Industrial Economics, she is also an Associate of the Chartered Institute of Bankers as well as an Insead Banking Alumni.

Sue Brown, Real Estate Balance
Sue joined Real Estate Balance from London First, where she had been Executive Director with responsibility for property, planning, the environment, and development since 2016. Sue started her career in government, serving as a senior advisor in a variety of high-profile roles, before going on to establish her own real estate consultancy. Sue was a driving force behind the launch of MIPIM, the world's largest real estate investment conference that takes place each year in Cannes. Sue is the co-founder and co-chair of REWIRE, the network for women in property. She is also an active member of the Women's Network Forum based at Buckingham Palace.

Anna Budd, Hines
Anna Budd, Managing Director, joined Hines in 2017 as Head of Legal for Europe, where she is responsible for all legal aspects of Hines' business in Europe, including funds, separate accounts and joint ventures. Anna began her career in 2002 as a trainee at Simmons & Simmons in London where she qualified as an associate in the real estate department, before joining Clifford Chance in 2007 as a senior associate in the real estate team. Anna moved to an in-house role at BlackRock in 2014, where she advised BlackRock's European real estate funds business in relation to fund launches and real estate transactions. Since starting her career, Anna has had a keen interest in architecture and the built environment. Anna lives in Hampshire with her husband, two young daughters and an energetic cocker spaniel. She earned a BSc(hons) in biochemistry from the University of Bristol and passed her Postgraduate Diploma in Law and Legal Practice Course at BPP Law School in London. She qualified as a solicitor in England and Wales in 2004.

Saira Choudhry, PwC
Saira leads PwC's Real Estate audit sector. She has over 16 years' experience working with both listed and private clients in the industry.

Saira has experience leading a range of audits, including large multi-location groups, across both IFRS and UK GAAP. She is the audit partner on several Real Estate engagements. Her current and previous clients include British Land, Schroders property funds (listed and private), Tristan Capital Partners, and BlackRock property funds.

Saira sits on the PwC UK Real Estate leadership team. She is also a member of the British Property Federation's Finance Committee, and an active committee member of Real Estate Balance, an industry organisation committed to addressing diversity challenges in the industry.

Karen Friebe, Real Estate Balance (Vice Chair)
Karen is a Real Estate partner based in the London office of international law firm Bird & Bird and she leads the firm's Hotels, Hospitality and Leisure Group. Karen is highly experienced in dealing with many types of real estate acquisitions, disposals leases and developments, whilst specialising in the hotels, hospitality and leisure sector. Karen is also skilled in the negotiation of hotel management agreements, having concluded a number of recent high-profile projects, both in the UK and overseas.
Karen is a regular panellist at hotel industry conferences such as the Berlin International Hotel Investment Forum ( for which she is currently an Advisory Board member) and since March 2020 she has co-hosted a highly successful series of webinars on topics ranging from Sustainability to Hotel Insolvency.

Karen is highly regarded in the legal directories as an expert in the hotels/leisure sector being noted in Chambers 2019/20 as follows: a "very competent lawyer" who is "remarkably knowledgeable about the industry": "a very experienced property lawyer with a wealth of knowledge and understanding of what a client wants." Karen is also mentioned in the Legal 500 2020 as follows: "an authority in the hospitality and leisure industry and she is recognised worldwide." "A very experienced professional with extensive experience acting on either side of the table. She is very approachable and an excellent communicator."
Karen is one of the founder members of Real Estate Balance (www.realestatebalance.org.uk), which brings together men and women from all areas of the real estate sector with the objective of supporting and promoting women into more senior roles in the sector. Karen is also part of the Senior Leadership Team for Women in Hotels (WiH), a best-in-class community launched in 2020 who believe that by collaborating, we can have greater impact and raise the game to create a hospitality industry that is more diverse and inclusive (WiH Global).

Ros Goode, Avison Young
Ros is Managing Director for London. The first woman in the role, appointed in 2016.
Avison Young is a leading global Real Estate advisory business with 12 offices across the UK. We're driven by a common purpose to create real economic, social and environmental value, powered by people.

Ros leads the London offices, focussing on supporting the business around the growth of our valued client base. With 500 colleagues across London Ros has a focus on the health and wellbeing of all our people, promoting and embracing a culture of care and collaboration.
Prior to the London role, Ros was National Head of Restructuring Solutions, a team of 35 working across the UK.
Ros has worked within the real estate industry for over 30 years joining the Avison Young business as a graduate in 1986 and has been a dedicated member of the specialist and market leading Restructuring Solutions team since 1989. Ros was promoted to lead the London team in 2013 and took up the role as National Business Unit Head in 2014.

Ros has a passion for the development of the next generation of property professionals currently heading up the Emerging Leaders Programme of 100 young colleagues at Avison Young.

Sarah Hayes, KPMG
Sarah Hayes is a Partner in the Real Estate Deal Advisory team at KPMG UK, having been with the firm for 15 years.
During her time with KPMG Sarah has worked on both multinational and domestic transactions in numerous areas of acquisitions, capital market transactions, joint ventures, demergers and disposals. Sarah has also worked with KPMG's Real Estate Leadership at a UK, EMA and Global level, helping to drive our business strategy, thought leadership and business solutions.

Sarah's transactional real estate experience includes the provision of financial due diligence (buy-side and sell-side) and advisory services in relation to assets and platforms throughout the UK, Europe, Middle East, Asia and South America. She has provided advice to a wide range of clients, located across the world, from Investment Managers to Super and Sovereign Wealth Funds and Ultra High Net Worth Individuals.
She also has extensive experience delivering KPMG's reporting accountant workstreams and advising clients considering real estate related transactions on the LSE's Main and AIM markets.
Areas of expertise
Alternative Investments Commercial Property Real Estate Residential Building and Construction Retail Transactions Transport and Logistics

Michela Hancock, Greystar Europe

Michela Hancock is Managing Director for Greystar Europe. She identifies new opportunities to support acquisitions, partnerships and joint ventures across student accommodation, build-to-rent and senior living. Michela is focused on growing Greystar's third-party platform and strategic partnerships with country leaders in France, Germany, Ireland, the Netherlands, Spain and the United Kingdom.
Michela joined Greystar in 2015 and most recently led the development and construction team for two years, as Managing Director for the UK. She was previously director of PRS at Grainger and is on a number of public and private advisory boards, including the Ministry of Housing, Communities and Local Government Build to Rent Joint Committee, the British Property Federation Build to Rent Sub Committee and the CREFC advisory board.

Mo Kebbay, Landsec
Mo Kebbay is a Diversity and Inclusion Manager at Landsec. With D&I expertise spanning across organisational design, learning and development, training, recruitment and supplier diversity. Mo is a D&I professional with experience in both the charity and financial services sector.
Mo is a passionate, inspirational thought leader with the ability to build strong influential relationships with key stakeholders at all levels.
Mo role models inclusive behaviours and is committed to empowering individuals to help build and develop an inclusive and accessible environment that enables everyone to be their best authentic selves.
Mo has been recognised for his volunteering and professional work. In 2018, Mo was recognised as a top ten workplace hero at the Investing in ethnicity awards.

Katie Kopec, JLL

Katie Kopec is International Director, Strategic Development Consulting at JLL. Katie is one of the foremost development advisors in the industry having achieved a wide range of complex developments for a range of clients across the world. Katie's work involves advising on land use options and disposal and acquisition of sites for corporate landowners, developers and public authorities. With experience of over 35 years, she has been involved with a number of large scale urban regeneration schemes across the UK, with a particular focus on London and regional cities like Manchester and Internationally in Dubai, Jeddah, Hong Kong, Beijing and numerous Continental European Cities including Hafen City in Hamburg.
Katie joined Jones Lang LaSalle as a Graduate Surveyor in 1983 and was made an Associate in 1987. From 1985, Katie worked within the leasing Agency department, and was responsible for the setting up and running of the Jones Lang LaSalle Docklands office from 1987-1991. Responsibilities have varied from advice on types and quality of development, funding sources and the final leasing of schemes.

Alison Lambert, Oxford Properties
Alison is Executive Director Luxembourg and SVP Head of Finance Europe for Oxford Properties. Alison Lambert is dedicated, committed and flexible to both her job and her family.
In her role Alison is responsible for the leadership of the finance team in Europe which has members in London, Luxembourg and Berlin, together with acting as the Executive Director in Luxembourg. In this role Alison oversees corporate accounting for all of Oxford's European assets, leading the Luxembourg office, sitting on the boards of a number of Oxford investment structures in both the UK and Luxembourg, leading new global finance initiatives, assisting in financing new transactions, assistance with tax structuring and maintenance of overseas structures. Alison's role involved a significant degree of stakeholder engagement, including liaison with the finance teams in Canada, managing Oxford's relationships with its European lenders and corporate advisors.
In 2017 Alison acted as OMERS Global Head of Assurance & Advisory ('A&A') based in London. For this role Alison spent a significant time in Canada with her team and senior executives. Alison was accountable for executive leadership in carrying out the duties of A&A as approved by the Audit & Actuarial Committee. Ensuring that value add services are provided across the business and act as a trusted business partner.
Prior to joining Oxford, Alison was a Director of KPMG Transaction Services in London where she specialised in giving financial advice to clients in real estate, public sector and infrastructure.
Alison is an active proponent of improving inclusion and diversity within the property industry and within Oxford.
Alison is a member of the ICAEW and has a BSc (Hons) in Biochemistry from London University.

Martina Malone, Prologis
Martina Malone is managing director, head of Global Capital Raising. She and her team are responsible for client relations and capital raising with Prologis' global investor base. Her focus is to develop and deepen relationships with institutional investors and consultants across the Americas, Europe, Asia and the Middle East. Prior to heading up the team, Ms. Malone was responsible for institutional investors in Europe and the Middle East. During her tenure at Prologis, the team has raised over $23 billion of capital for Prologis' funds globally.
Prior to joining Prologis in 2010, Ms. Malone was head of European client relations and capital raising for JER Partners for eight years. Previously, she was at Deutsche Bank AG as vice president in the European Securitization group. Ms. Malone also served as vice president, asset finance, at Credit Suisse First Boston, and served in various real-estate-related roles at Hypo-Bank in Munich and London.
Ms. Malone is an active member of INREV and the Talent Committee of Real Estate Balance, an initiative that encourages greater gender balance in the Real Estate industry. She holds an MBA and a Bachelor of Arts from Ludwig-Maximilians-Universität in Munich and spent one year at Ecole de Management in Strasbourg, France. She is a German national and is fluent in German, English, French and Spanish.

Paul Modu, Knight Frank
Paul is a chartered surveyor at Knight Frank's Private Office Commercial team, where he advises Ultra-High-Net-Worth-Individuals (UHNWI's) and private property companies in the acquisition and disposal of commercial property across the UK.
Paul is also a founding committee member of Real Estate Balance Next Gen, set up in February 2020 to address diversity issues in the real estate industry.

Sam Monger, Grosvenor Group
Sam Monger is Director of Special Projects at Grosvenor Group. Grosvenor is a privately-owned property group active in some of the world's most dynamic cities. Sam's role at Grosvenor has included leading strategic planning, market and customer analysis across the business. He is currently focused on developing Grosvenor's strategy for delivering social and environmental impact, with a focus on the housing needs of low-income households. An active member of Real Estate Balance's Leadership Engagement Committee since its inception, he has been instrumental in setting up and running the members' survey since 2016. Prior to joining Grosvenor in 2011, Sam spent 17 years working in management consultancy at PwC and IBM, mainly advising corporate occupiers in a range of sectors on property strategy and business transformation.

Julia Nammuni, British Land
Julia is an experienced strategy executive and ex BCG-consultant with 15 years of commercial experience spanning several sectors including real estate, infrastructure and private equity. She holds an MBA from London Business School and a MEng from Imperial College. She is also a chartered civil engineer with experience in delivering large infrastructure projects in UK, Europe, Asia and Middle East.
She has worked with leadership teams at a variety of organisations to craft and execute their vision to generate sustainable value and to drive transformative change. She is highly collaborative and experienced in working directly alongside and coaching executive teams to accelerate impact.
Amongst her strengths are breaking down complex problems, driving rapidly to outcomes and motivating teams.
She is passionate about diversity and inclusion and is an active member of the British Land Women's committee.

Jackie Newstead, Hogan Lovells
Jackie is Head of the Real Estate Industry Sector at law firm Hogan Lovells. Jackie deals with all aspects of commercial real estate including real estate development, institutional disposals, acquisitions, lettings and management, hotels and real estate finance. Jackie is a member of the BPF, IPF and ULI. She is Chair of the City of London Law Society Land Law Committee. She won the award for the 'Best Woman Solicitor Managing a Large Practice' at the Association of Women Solicitors Awards 2012 and she was "Highly Commended" at the Law Society Excellence Awards for Legal Business Woman of the Year. Jackie was also included in the list of The Top 50 Women in the UK Super Lawyers and is recommended in Legal 500, Chambers and Who's Who Legal for Real Estate.

Dom Packwood, The Crown Estate
Dominic Packwood is an Investment Asset Manager who joined The Crown Estate in 2014.
He is responsible for capital transactions across the Central London portfolio and has concluded over £850m of acquisitions, sales and lease re-gears.
Dominic is a qualified chartered surveyor with the RICS and sits on the Real Estate Balance Developing Management Committee.

Geoffrey Shaw, BlackRock
Geoffrey Shaw, Managing Director, is a member of BlackRock's Real Assets team. As Portfolio Manager of the BlackRock UK Long Lease Property Fund he is responsible for capital raising, strategy and managing the long income team. As one of the Inclusion & Diversity Business Leads he is also responsible for driving change that will help BlackRock reach its public commitments.

Mr. Shaw has over 18 years' investment experience, the majority of which he has spent focused on the Long Lease market. Prior to joining BlackRock in 2013 he has worked both at Aviva Investors and at Cushman & Wakefield. Along with Long Lease he has had experience in advising clients on Central London Investment as well as on Global Occupation.