Barclays Real Estate Team talk about their experience of shared parental leave
Member Focus /
12 February 2021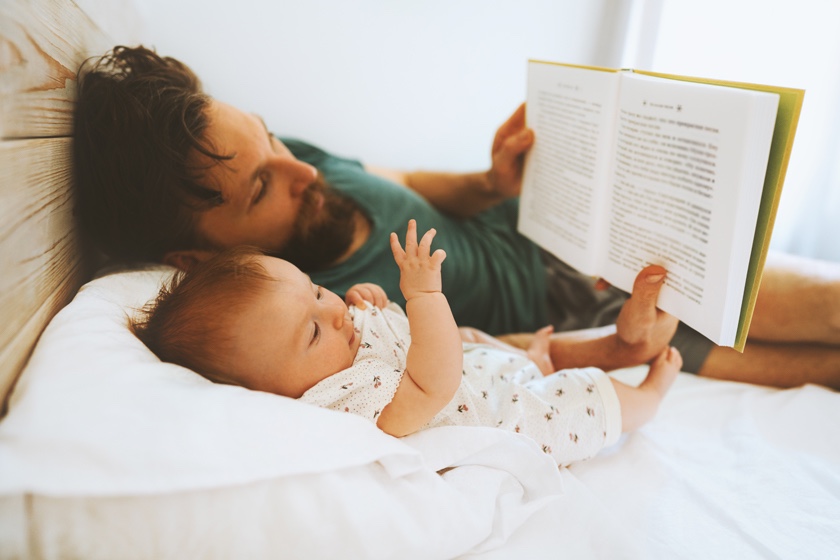 Barclays Real Estate Team talk about their experience of Shared Parental Leave and their advice for other parents considering the scheme.
Since its introduction in April 2015, parents have had the option to split the traditional 52-week maternity leave and 2-week paternity leave in a way that better suits their individual needs and wants via the Shared Parental Leave scheme, allowing them to either spend more time with their child or get back to work faster. In a recent round table, members of the Barclays Real Estate team came together to discuss their experiences of the scheme, offering an insight into the realities of modern day, working, co-parenting families.

It is clear that the benefits of shared parental leave differ for each parent, and so the rationale for taking up the option varies from family to family. Zoe Lamb, Industry Director, and her partner decided to share their leave 50/50, each taking 6 months away from work to look after their new-born. For them, this was a practical solution to allow Zoe to get back to work sooner without having to use external childcare before they wanted to. On the other hand, Andrew Wainwright, Director, first opted for shared leave in 2017 as a means to experiencing the development of his child as a more pro-active and engaged participant during their upbringing. In more recent times, the opportunity to share leave whilst experiencing the demands of working from home and national lockdowns has allowed parents to alleviate the pressures of the pandemic. Kayode Sulola (Kay), Associate Director, welcomed his daughter home at a time when he and his partner were finding their feet in a difficult environment brought about by the COVID-19 pandemic. Sharing the 52 weeks between them was necessary as childcare wasn't available, and also allowed for each parent to find a little more time for themselves.

Whilst all parents would agree that maternity and paternity leave is no holiday, it often does present an opportunity to get away and spend time with loved ones, as experienced by Andrew the first time he took leave. "The first time was quite adventurous", Andrew shared, having taken his young daughter to France, and around the UK to see various family members. Although, these types of opportunities have been harder to come by in more recent times, with restrictions on travel and household mixing, and parental leave experiences have shifted in line with this new environment. Kay, aptly named "Tiger Dad" by Zoe, ambitiously hoped to get his daughter up to speed with her alphabet, colours and potty training during a boot-camp-style lockdown, which allowed his wife to get back to work via a smooth transition. The common theme that arose from the discussion was that, no matter how parents decide to spend the leave, be that at home or elsewhere, it provides an opportunity for them to share the benefits and challenges that having a child brings.

Of course, one of the challenges that many have faced when considering taking up the option of shared parental leave is the possible negative response from managers or peers. Interestingly, Zoe found that, despite only taking half the leave available to her, colleagues immediately assumed she'd been off longer than she had. She believes that there "is still an expectation for mothers to take the most significant period of time off", and that there is a need for this expectation to be changed. "The only way for that to happen is for businesses to normalise parents sharing the 52 weeks in a more even way than traditionally", Zoe argues. That being said, all unanimously agreed that colleagues and managers were supportive in their decision to take time off, and that recent changes to working life have made people more understanding. Kay's leave came about at a time when colleagues just began working from home full time, at a point where everyone expected to be back in the office within a matter of weeks. As time has gone on, it has become clear that getting employees back to a single location was and remains a way off. "The pandemic has shone a light on the fact we all have real lives and we need to spend time with our children", Andrew noted, and sharing parental leave gives parents an opportunity to avoid the guilty feeling that they either aren't working or aren't parenting properly, when trying to do both at the same time. Kay admits to having had the common, naïve perception that working from home and parenting would be easy, a view that quickly changed when experiencing it himself.

A bizarre gender disparity seems to exists, whereby returning to work early causes women to feel guilt, whilst a man leaving work for long periods of time also causes guilt feelings. The Real Estate team agreed that sharing leave should be normalized in order to remove these guilty feelings and encourage anyone considering straying from tradition to do so. "You wouldn't lose out on holiday that you're entitled to, so why wouldn't you take shared parental leave?", asks Zoe. The opportunity for bonding with a new child is clear to see, but the longer term benefits are sometimes not so obvious. Sharing leave so that both parents are present in those early days can make life easier, even with little things such as both parents knowing where to find the endless baby paraphernalia. Ultimately, the biggest piece of advice the team shared was that if this is something that you are considering, then you should go for it; your child only grows up once and there is no better opportunity to bond with them during that time you can have together.