Real Estate Balance and PwC launch guide to EDI data collection
Report /
30 September 2022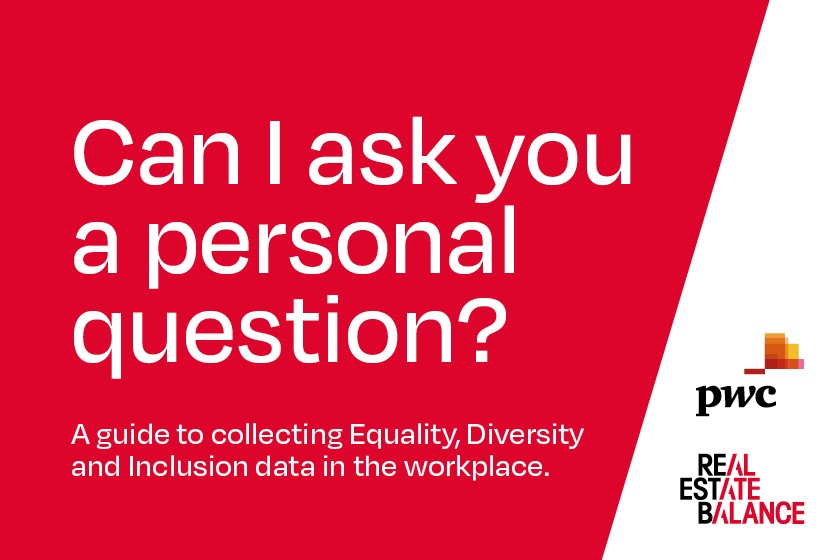 Real Estate Balance (REB) and PwC have launched a new Guidance Note on Equality, Diversity and Inclusion (EDI) data collection to help real estate organisations analyse and progress their commitments.
With the majority of businesses failing to report on EDI data beyond gender and a recent PwC report showing that around only 10% of UK companies voluntarily disclose their ethnicity pay gap, the Guidance Note provides practical advice to assist real estate organisations to effectively gather EDI data, track and report on progress, and use the data to guide their priorities. 
Download Can I ask you a personal question? A guide to collecting EDI data in the workplace here and watch the below webinar for an introduction to the guide and navigation of the guidance. 
The guidance comes as recent social movements and the Covid-19 pandemic are exposing inequities within our society and contributing to an increased focus on equality and fairness. At the same time, evidence that an inclusive approach to employment is good for business continues to grow, with key stakeholders including regulators, investors and employees expecting to see more transparency and greater commitments from industry leaders.
With a REB survey carried out in 2020 revealing that ambition exists across the UK property sector to tackle diversity challenges on multiple fronts, there is still a long way to go before consistent data is widely available in all areas.
One issue is that the number of lenses through which organisations can measure EDI has grown significantly over time, with metrics now including gender, ethnicity, sexuality, age, disability, social mobility and more. Collecting and analysing a broad spectrum of EDI data can be a daunting prospect but will enable firms to better understand their workforce and the lived experiences of individual staff members, whilst helping to identify any issues, gaps and biases that may be present.
Recognising that EDI in the workplace is an important business and societal imperative and that accurate data is needed for any organisation seeking to make progress in this area, the Guidance Note sets out:
the social and business case for collecting EDI data
suggested EDI data definitions and categories
effective ways to collect EDI data
how to analyse data and report on EDI
ways to overcome common EDI data collection challenges
The guidance also contains advice on international EDI data collection and provides good practice case studies from some of the biggest names in UK real estate, namely Grosvenor, Landsec and PwC.
Drawing on emerging global best practice, PwC research and feedback from REB members about the real-world EDI challenges they face, the Guidance Note is adapted for the UK real estate sector, though its methodologies are applicable elsewhere and offer significant value to other sectors. 
A group of members of REB collaborated to produce the guidance, which will be launched on 30 June at an event in central London.
Speaking about the new Guidance Note, Sue Brown, Managing Director of Real Estate Balance, said:
"The social and business imperative to build equal, diverse and inclusive workplaces is greater than ever before – and collecting meaningful data is a vital first step in achieving sustainable change. It's been fantastic collaborating with PwC and our members on this Guidance Note, which I know will be a valuable resource for the property industry. I hope it inspires leaders across the sector to take the action required to build a better balanced and fairer business world."   
Angus Johnston, UK and EMEA Real Estate Leader, PwC United Kingdom, said:
 "We've been working with Real Estate Balance on progressing EDI in the property sector since 2017, so I'm delighted to see our efforts coming together in this highly practical Guidance Note, which I'm sure will be of huge benefit to organisations – both within real estate and beyond. EDI is a complex topic and one that's best tackled together, so I encourage anyone that's currently grappling with the issues to take a look at the guidance and consider how it can help their organisation be one that is an open and inclusive place for everyone."