Member focus: Cobalt Recruitment
Member Focus /
13 October 2022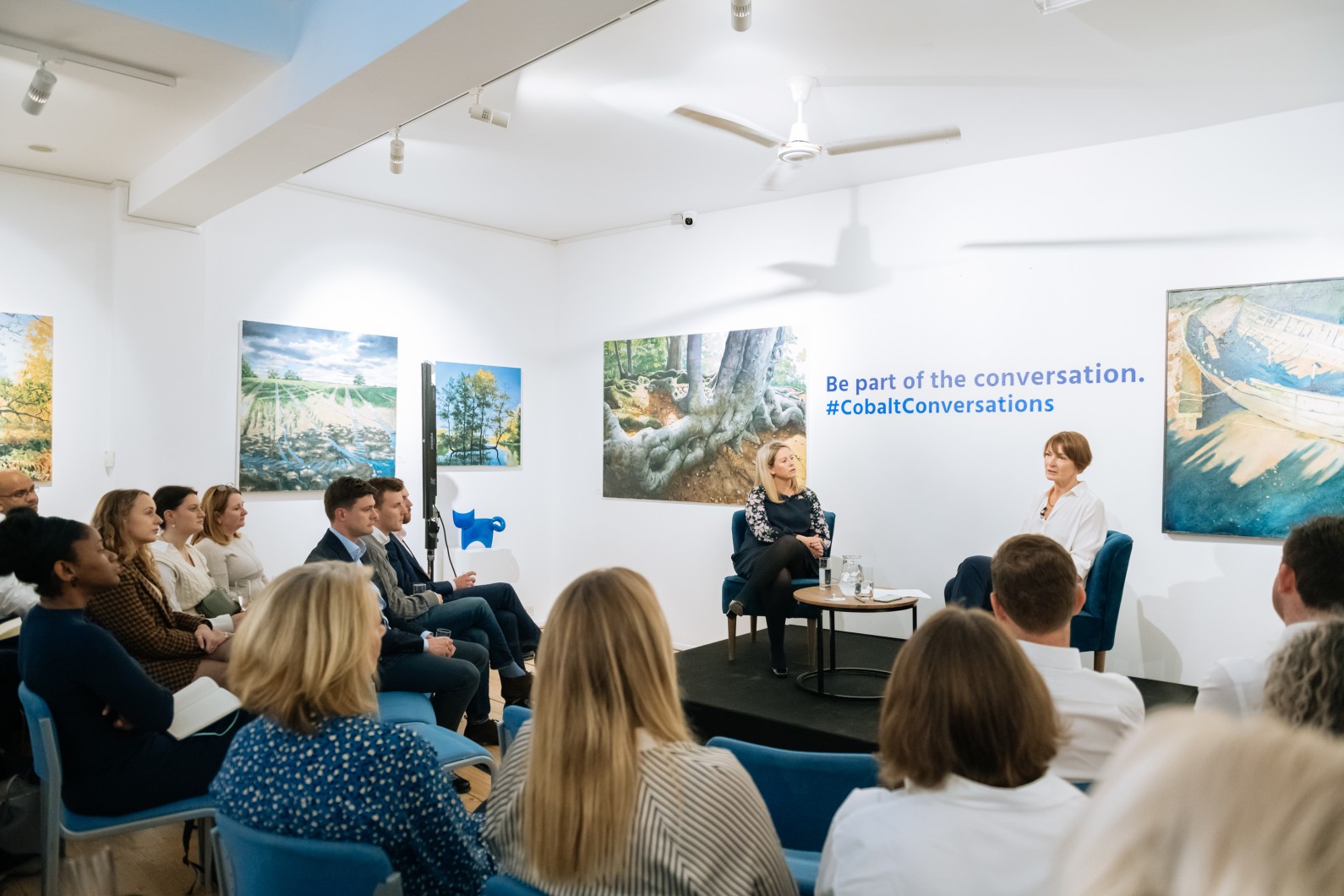 Cobalt Recruitment launches Cobalt Conversations series about DE&I in the workplace
Cobalt Recruitment hosted their first event in a series called Cobalt Conversations in September, with a view to getting businesses to open up about the challenges they face when driving DE&I within real estate. The event was a group discussion hosted by Cobalt's Charlotte John, Director of Client Solutions, and guest speaker Sophie Walker – a prominent campaigner, activist, founding leader of the Women's Equality Party leader, and former Reuters journalist.
The discussion focused on gender equality, challenges facing workers who provide care alongside 9 to 5 jobs, the gender pay gap in real estate, flexible and hybrid working practices, and how companies can build trust when collecting data about people.
Walker's own experiences showed that flexible working policies only truly support D&I when everyone in a workplace takes advantage of them. If a working mother leaves early to pick up their children, but a father doesn't need to (because someone else does the school run on their behalf), then it contributes to inequality. Suddenly there becomes a culture – not just in real estate, but across all sectors – where mothers are leaving offices early, while their male counterparts stay late.
Hybrid working also presents an equity issue. If only some of your staff participate in hybrid working, while others choose to do five days a week in the office, then leaders may unfairly assume that if they can see them present in the office, then they are being productive. On the contrary, Walker told us that the UKs productivity measure is 14% less compared to other G7 nations. Long hours in the office doesn't equate to productivity, and in fact generally makes workers more burnt-out, in turn costing employers through increased sick leave.
In that case, flexible and hybrid work policies mean that primary carers are in the office less. And we can add to that those with disabilities whose offices may not be optimised for them, people who are neuro-diverse where a busy and noisy office might be detrimental to their productivity, or black and minority ethnic groups who might face microaggressions from colleagues; all of these groups are less likely to want to be in five days a week given the offer of hybrid work. The answer, Walker told us, is to make everyone participate in these policies, only then will they result in equity amongst colleagues.
Many insightful conversations came out of this, including what some businesses are doing to create genuine increase in representation amongst their staff and in applications for job vacancies. There were questions asked around the role of language used within job descriptions, adverts and on a wider company level, and the impact that has on DE&I.
Walker offered some actions to drive change in the DE&I space, including:
Stop calling talent 'diverse'. This suggests there's a 'normal' and a 'diverse'. Walker prefers the term representation. 
Think about language your business uses. Review the language used in job adverts/job descriptions and throughout the hiring process. Ditch sporting metaphors, and don't make pubs places where work is discussed, these can exclude a lot of people.
Drive a culture that supports flexibility, and values productivity over presenteeism.
Have clear policies for both bullying and sexual harassment. Publish these on your website and include in candidate information packs during the recruitment process.
Showcase senior leadership who are good role models for your company values and share these on your website and recruitment materials.
Charlotte John said: "I loved hosting this event and I'm excited to see where we can take the conversation next to really start driving change in the way we do things.
"I am currently working with our clients to develop tailored recruitment solutions that support them across their resourcing needs and ensuring that representation and inclusion is considered throughout the process with a seamless transition from Cobalt to clients.  
"It is really important that this is not treated as an afterthought, as it has for so many years."
Cobalt is planning future Cobalt Conversations, as well as potential roundtables or workshops, with an aim to explore some of these topics on a deeper level. Cobalt will share more with the Real Estate Balance membership when they have confirmed the next event.